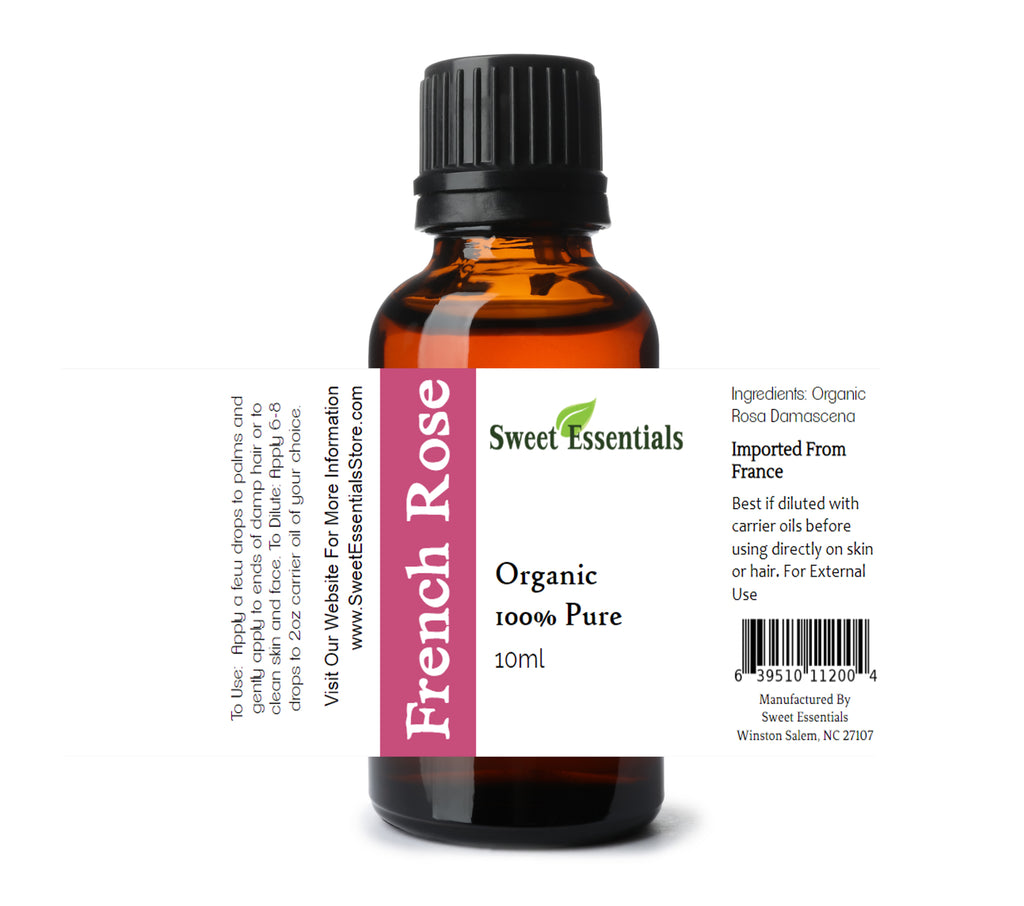 Sweet Essentials
Organic French Rose Essential Oil - Rosa Damascena - Imported from France
Details
✔ Containing a complex array of vitamins, minerals, and antioxidants, rose essential oil has excellent emollient properties for moisturizing dry skin. Rose essential oil moisturizes your skin and reduces the signs of premature ageing. Its anti-inflammatory properties effectively heal acnes and inflammatory skin conditions.

✔ The astringent properties of this essential oil strengthen the roots of the hair, thereby promoting hair growth. Rose essential oil can also be added to your natural hair toner to give your hair a fragrant, shining look.

✔ The high Vitamin, E, A and K content found in Rose essential oil can help to strengthen our hair follicles by nourishing them from within and making them stronger, healthier and adding volume to your hair. It has anti-inflammatory and antiseptic properties as well which can help in preventing and calming a lot of scalp and skin problems like fungal infections and oily scalp.

✔ WHAT ARE ESSENTIAL OILS? Essential oils are the volatile liquids of the plant. They are obtained from properly distilling any part of the part including the seeds, roots, bark, stems, leaves, fruit, flowers or branches! Distillation through steam is a very slow process and is carried out at low temperatures to maintain the quality and therapeutic benefits of the oil.

✔ WHAT ARE THE BENEFITS FOR HAIR? Nourishes hair · Moisturizes scalp and strands · Helps prevent shedding hair · Improves blood circulation on the scalp aiding in hair growth · It has powerful antiseptic qualities treating dry scalp, fungi, bacteria, and other microbes You can add a few drops of lavender oil to any carrier oils like argan oil, jojoba oil, coconut oil, etc.. Then apply a few drops to hair. Can be used as a weekly hot oil treatment or daily use (in small amounts).
Product description
Considered one of the most exquisite, therapeutic and beneficial essential oils in the world, Rose Essential Oil is widely used and valued in aromatherapy, skincare and fine perfumery. Rose essential oil is steam distilled from the fresh petals of Rosa Damascena (damask) roses in a highly elaborate and delicate process. It contains the flower's aromatic compounds.

The beauty of roses goes beyond their pride of place in the garden. Their anti-inflammatory and antioxidant qualities means that incorporating this fragrant flower into our beauty regimes can also help our complexions bloom.

➳ Botanical Name: Rosa Damascena
➳ Plant Part: Flower
➳ Country Of Origin: France
➳ Method Of Extraction: Steam Distillation
➳ Color: Pale yellow to yellow liquid
➳ Flash Point: 213 Degrees Fahrenheit
➳ Aromatic Scent: Has a floral, rose characteristic scent
➳ Blends Well With: Great with many floral scents. Bay, Bergamot, Chamomile, Citronella, Clary Sage, Geranium, Jasmine, Lemon, Mandarin, Orange, Palmarosa, Patchouli, Pine, Thyme, Rosemary, Rosewood and Ylang-ylang.


Diffuser Safe - NON-GMO - No Additives - No Preservatives
Important information
Indications
Essential Oils are highly concentrated and should be diluted before using. To dilute in oil, use carrier oils such as Sweet Almond, Argan, Macadamia, and more...

Legal Disclaimer

Statements regarding dietary supplements have not been evaluated by the FDA and are not intended to diagnose, treat, cure, or prevent any disease or health condition. Information on this site is not intended to diagnose, treat, cure or prevent disease. A decision to use/not use this information is the sole responsibility of the reader. Please see your doctor or health care professional for medical evaluation.


Ingredients
Pure Organic Rosa Damascena - Pure - Uncut - Nothing Else ★★★★★ Shipped in an amber glass bottle with a built in dropper.


Directions
FOR USE IN HAIR: Add Essential oil to you favorites carrier oil, such as argan, sweet almond or macadamia. Use mixture of - 1oz carrier oil with 5-8 drops of essential oil. Apply few drops of mix to towel dry hair. Allow hair to rest for 5 mins. Style as usual. ★★★★★★★ FOR USE ON SKIN: Add Essential oil to you favorites carrier oil, such as argan, sweet almond or macadamia. Use mixture of - 1oz carrier oil with 5-8 drops of essential oil. Apply all over avoid eye area.