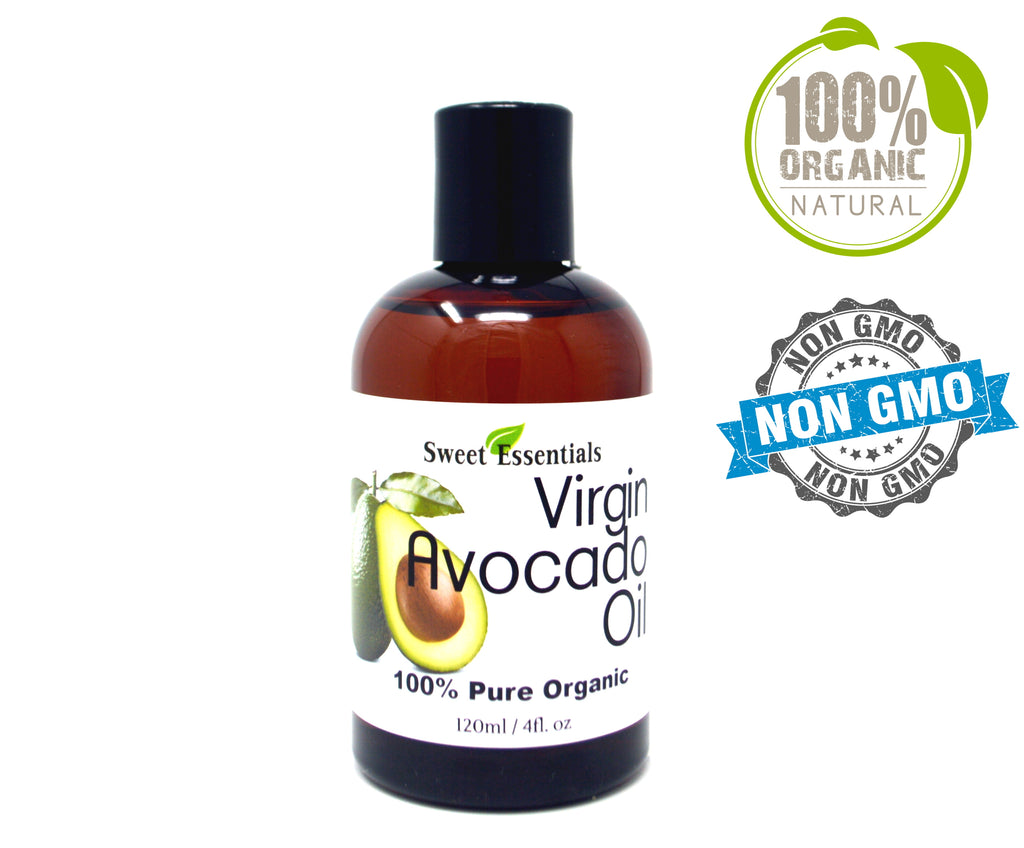 Sweet Essentials
100% Pure Organic Avocado Oil - Unrefined / Virgin
Details
Avocado oil is a great source of lecithin. This fatty substance acts as a super emulsifier and lubricant. When applied topically, lecithin forms a protective covering on your hair follicles and your skin's surface, effectively preventing the loss of moisture due to wind and climate damage. Avocado oil is also high in sterolin which can be used as a softener or moisturizer in hair and skin care.
Specifics:
Scientific Name: Persea Gratissima
Extraction: Cold Pressed
Color: Light Green to Dark Green - Sometimes including a brownish hue
Scent: Characteristic
Ingredients: 100% Pure Organic Unrefined Avocado Oil (Food Grade) 
Amount: Measured by volume not weight
Bottles: All Bottles Are Sealed.  
Additives: We NEVER add anything to our oils or waters. 
Animal Testing: We NEVER provide or use products tested on animals. We do not support this. We are 100% Cruelty Free
 
Expirations Dates Are On All Bottles
** Imported from Italy or New Zealand **
Avocados are not only a delicious fruit to eat; they can also be a valuable addition to your hair and beauty regimen. Avocados are loaded with natural fats that are excellent for your hair and scalp. They contain essential vitamins and minerals that work on rebuilding and regrowing hair. The high levels of vitamin A, D, B1, B2, and E are proven to work at the cellular level to protect and strengthen hair. These properties are why avocado oil is an excellent component to your health and beauty routine to restore shine and health to dry and mistreated hair.
Hair Treatment
Using avocado oil once or twice a month can help to keep your hair in tip top condition. If your hair is extremely damaged or you are trying to recover from chemical processes, it may be used more often.
Adding a few drops of avocado oil to your usual shampoo can improve the shampoo's moisturizing effect.
Massaging into the oil into your hair can promote hair growth by providing much needed nutrition to the follicles. It can be used to tame dry, fly away hair by rubbing a scant amount between your hands and smoothing your hair.
Avocado oil is also a good way to relieve itchy, dry scalp. Take advantage of the high fat content of avocado oil by massaging it into your scalp. The fats are easily absorbed through your skin and will help soothe your scalp. It is also known to help stimulate hair growth.
A Treatment For Dry Skin
If you have blemished skin, age spots or sun damaged skin, there's good news. The sterolins found in avocado oil can reduce blemishes and also relieve damaged skin, in particular damage caused by sun exposure.
If you know anything at all about skin care, you know how important collagen is to keeping your skin smooth, firm and looking young. Avocado oil, for skin care purposes, helps to increase collagen production naturally. In other words, it helps to form a natural barrier against wrinkles and many other signs of aging skin. Avocado oil has many qualities that will aid in the treatment of dry skin. We already mentioned sterolins, which helps to keep the skin soft while providing deep moisturization. Even diseases like eczema and psoriasis, which is known for the dry and itchy conditions they cause, can benefit slightly from avocado oil.