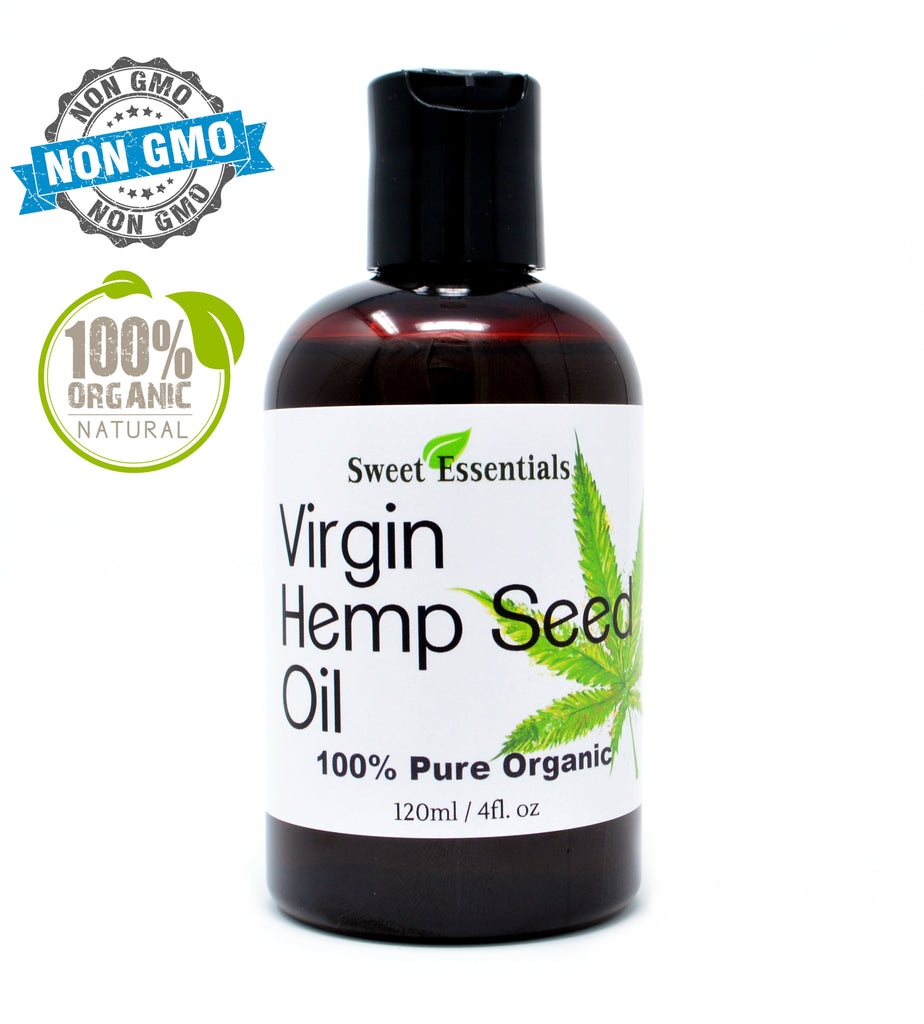 Sweet Essentials
100% Pure Organic Hemp Seed Oil | Unrefined / Virgin | Imported From Canada | Food Grade
Details
Color: Dark Green
Scent: Characteristic
Process: Cold Pressed
Ingredients: Organic Unrefined Hemp Seed Oil (Food Grade)
INCI: Cannabis Sativa
Product Of Canada

Measured by volume not weight. All bottles are sealed. These products come in a food grade plastic bottle. Specifically designed not to degrade the oils.


Hemp seed oil has a reputation as a versatile substance that is beneficial to us due to its Omega-6 to Omega-3 ratio and its content of essential fatty acids. Hemp seed oil is 80% essential fatty acid, the highest amount of any other plant. And because hemp seed oil so closely matches our own skin lipids, it is able to penetrate our cells and lubricate the surfaces between them. 

Hemp seed oil is used in cosmetics which take care of skin lesions and blotches that may occur as a result of excessively dry skin. Since it won't clog your pores like many other oils, you can safely use hemp seed oil to moisturize your skin, and do so without any greasy buildup. Hemp seed oil is also a natural sunblock, which helps people who use it to avoid diseases related to over-exposure to the sun's more harmful rays.


Benefits
The 3:1 ratio of Omega-6 to Omega-3 fatty acids is important in preventing heart disease and promoting heart health. The same ratio is thought to be helpful in alleviating the symptoms of skin conditions like acne, psoriasis and eczema. Hemp is the only plant containing Vitamin D, which is necessary for calcium absorption. This is especially helpful to those on a vegan diet.

People who use hemp seed oil products have reported that after they begin to use hemp seed oil, they have seen smoother, thicker hair, stronger nails and softer skin. In addition, the balance of essential fatty acids in hemp seed oil have benefits for nearly everybody cell in helping your body to fight and ward off degenerative diseases including cancer and cardiovascular diseases.

Hemp seed oil is also a good source of gamma-linolenic acid (GLA) which makes the oil a rival to flax seed oil and Evening Primrose Oil. It is also an excellent alternative to fish oil supplements -- fish have been reported to be contaminated by mercury as well as other toxins. Nursing mothers and pregnant women may wish to use hemp seed oil instead of fish oil, as they reduce their intake of fish but maintain the level of essential fatty acids. Hemp seed oil has been found to be helpful in relieving pre-menstrual tension as well.

Hemp seed oil products contain a beneficial amount of amino acids, and vitamin E as well. It is a natural antioxidant, and the oil doesn't stick to your skin as many oils have a tendency to do. It is rich in not only Omega-3 and Omega-6, but also Omega-9 -- this will allow hemp seed oil to moisturize your skin and keep it healthy - and it does this without clogging your pores. Potassium and calcium are also found in hemp seed oil products, making it even healthier for your skin.

Hemp seed oil contains ingredients that give it unique anti-inflammatory properties that are not often found in other oils. This, added to its antioxidant properties, allows hemp oil to detoxify and clean your skin, as well as evening out your skin tone.


Benefits for Hair
Many women who are concerned about the health of their hair use shampoos and conditioners made with hemp seed oil. 

Hemp seed oil is not the typical product that is put on your hair. Hemp, in its industrial-grade state, is drug-free and non-hallucinogenic; lest you worry that it's harmful, since it comes from the Cannabis plant. Hemp seed oil has been subjected to heat which sterilizes it and prevents germination.

Although hemp seed oil was used in hair care and treatment for a time before it was used in commercial shampoos, companies did eventually realize the many benefits of hemp seed oil for hair care. The commercial-grade hemp seed oil used for hair care is an excellent source of amino acids and has been proven to have many benefits for your hair.

Hemp seed oil, like Argan oil for hair, is a good source of many nutrients than can benefit the health of your hair. It is proven to be helpful for developing keratin formation. Hemp seed oil for hair helps develop stronger and healthier hair. 

As you age, your hair develops deficiencies in Omega-3 fatty acids. When you use hair care products infused with hemp seed oil, which has a high content of fatty acids, you can help to stave off the aging process. The 3:1 ratio of Omega-6 to Omega-3 essential fatty acids is exactly what your hair and your scalp need. This ratio is also the easiest absorbed by the body.

When you use products with hemp seed oil on a regular basis, you should experience a dramatic difference in the feel and look of your hair, regardless of whether it is usually oily, dry or normal. Since the human body does not produce essential fatty acids on its own, they are still needed for optimum health.