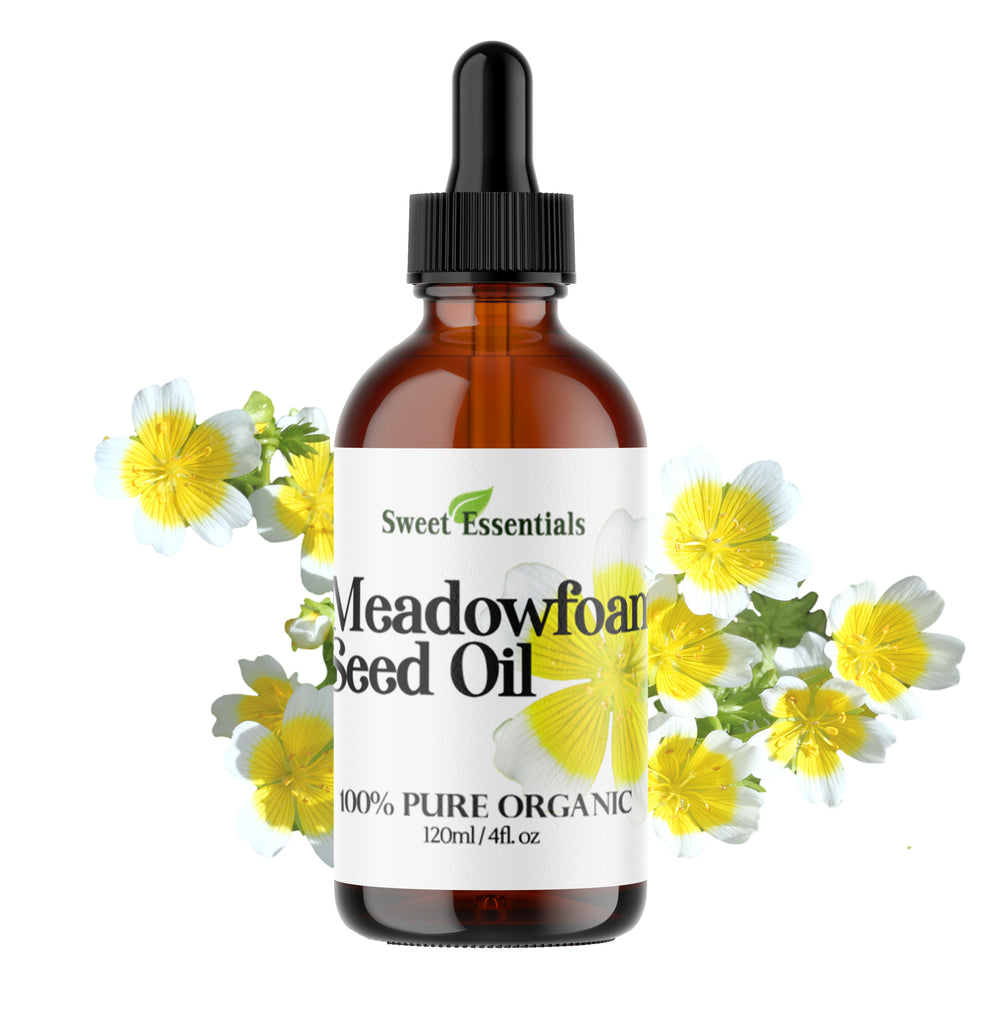 Sweet Essentials
100% Pure Organic Meadowfoam Seed Oil | Imported From Canada
Details
Meadowfoam seed oil is a light golden and generally odorless oil which is extracted from the seeds of the meadowfoam plant. This plant received its name due to the fact that when in bloom, it resembles the white foam found whirling atop the ocean's massive and powerful waves.
Meadowfoam seed oil is the perfect addition to your skin care routine if you are looking for clearer, healthier, and silkier skin. It is an oil which promises to moisturize and rejuvenate in ways that no other oil can.
In the same way that meadowfoam seed oil condition hair, it can also condition and thicken eyelashes too. Apply it as you would your mascara and leave it on overnight. It will hydrate your lashes and encourage them to grow, making your lashes look longer and thicker.
Like jojoba oil, meadowfoam seed oil is slightly waxy and closely resembles human sebum. When used in skin care, it naturally helps your skin to effectively form a barrier to lock in moisture and deliver nutrients deep into your epidermis. Meadowfoam seed oil is a popular mature skin due to its nourishing, high antioxidant composition.
Meadowfoam is an herbaceous winter annual plant native to the pacific Northwest region of the United States and Canada. Meadowfoam seed oil has been extracted from the seeds of the (meadowfoam) plant and is an edible oil. The plant derives the name meadowfoam as when it is in bloom it resembles the white foam that rides the ocean waves. Meadowfoam oil has some unique properties. It has between 15-23% brassic acid and it has between 60-65% gadoleic acid (ecosenoic acid). Because of the similar quantity of gadoleic acid as jojoba oil (66-88%) it has the same qualities as jojoba oil and is also non greasy like jojoba.

Meadowfoam Seed Oil is a fast-absorbing, natural oil with a luxurious and silky skin feel. Meadowfoam Seed Oil can be used in a wide variety of formulations for face, hair, body and lips as a substantive emollient that is rich without being heavy.

Specifics:
Scientific Name: Limnanthes Alba
Extraction: Cold Pressed
Color: Pale Golden (color is suppose to be a very light (pale) golden color. It will look clear in your palm, in a dropper, in a lid top. However, if you pour the entire contents into a clear cup you will see its golden color.
Scent: None / Bland - to a slight oily scent
Ingredients: 100% Pure Organic Meadowfoam Seed Oil (Imported from Canada)
Amount: Measured by volume not weight
Bottles: All Bottles Are Sealed - #1 PETE Bottles or Glass Amber Bottles depending on selection above.
Animal Testing: We NEVER provide or use products tested on animals. We are 100% Cruelty Free
Expirations Dates Are On All Bottles

Indications

Pure Meadowfoam Seed Oil provides, soothing, natural relief for dry skin. This unique oil quickly penetrates and moisturizes, leaving the skin with a greaseless, silky after feel. Also an excellent product for dry scalp and dandruff when used like a hot oil treatment. Perfect makeup remover, since it is safe to use around your eyes.

Ingredients

Organic Meadowfoam Seed Seed Oil | 100% Pure | 100% Cruelty Free | Imported From Canada

Directions

Apply to clean skin allow to rest and absorb. Use daily. For hair apply a few drops to palms. And apply to ends of damp hair avoiding scalp. Allow to rest for 5 mins. Style as usual. For scalp treatment apply to dry scalp and hair. Wrap hair and scalp in towel. Keep on for 20 minutes. Wash as usual. Use scalp treatment once weekly.