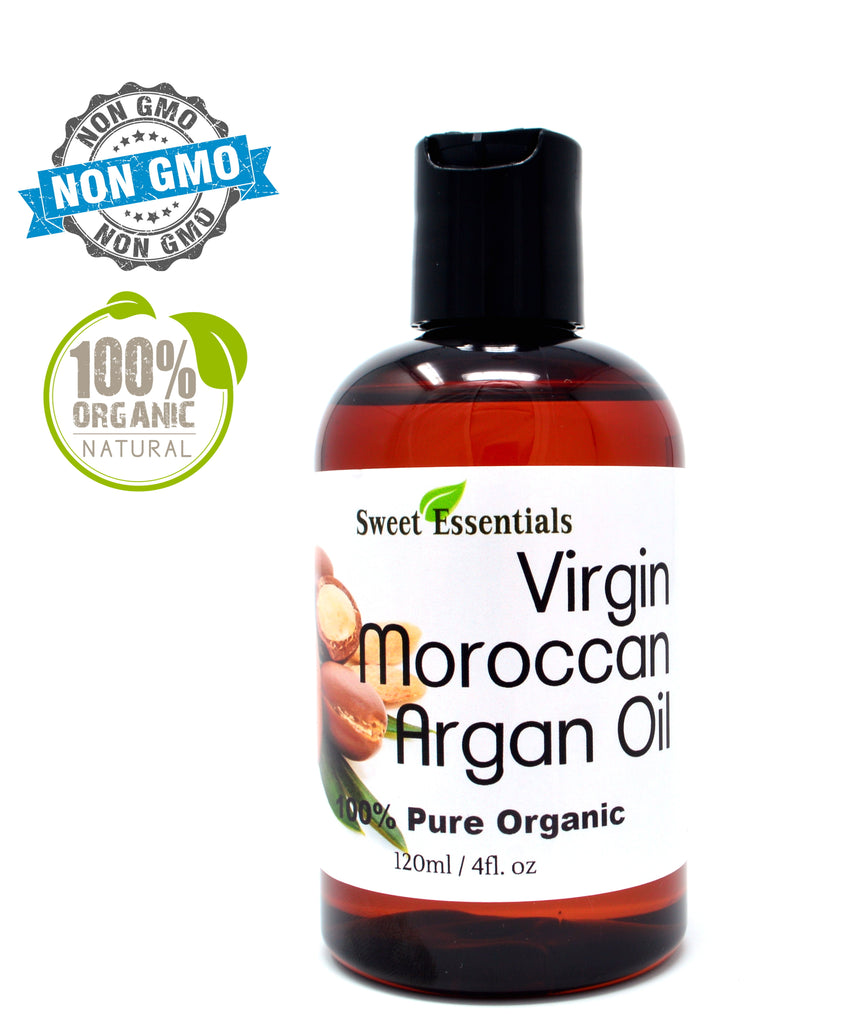 Sweet Essentials
100% Pure Organic Virgin Moroccan Argan Oil | Unrefined | Imported From Morocco
Details
Color: Golden
Scent: Characteristic of unroasted argan oil
Process: Cold Pressed
Ingredients: Organic Unrefined Argania Spinosa Kernel Oil
Amount: Measured by volume, Not weight
Bottles: We Use #1 PETE Plastic Bottles (Food Grade) - We also offer Glass Bottles. Droppers are glass. All products are sealed.
Expiration Date: Expiration dates are on bottles. 
Product Of Morocco
Comparable to Josie Maran's argan oil
Our argan oil is from unroasted nuts and is for cosmetic uses only. This oil is not for culinary use.
What it is:

A light weight oil that can be used as a daily moisturizer or treatment for skin, hair and nails. 

What it does:

This 100% Pure Argan Oil is a legendary oil that's rich in vitamin E and essential fatty  acids, and grown organically in Morocco. With its multitasking benefits, Argan Oil can be used for many areas including hydrating and nourishing skin, as a daily moisturizer, skin treatment, treating spilt ends, and softening cuticles. It's gentle enough to use on all skin types and is believed to help with skin conditions including acne. Argan Oil easily  absorbs into skin to give you a youthful, dewy glow, and has astonishing  healing, conditioning, and anti aging properties to keep your skin and hair nourished and  revitalized and to keep you looking beautiful from head to toe.

 Argan Oil for Skin Care

Argan oil is a wonderful moisturizer. As this oil is rich in fatty acids, it is better than most moisturizers.

It is totally natural, making it safe for all ages and all skin types.

This oil has antimicrobial properties, making it great for the skin and lesions.

This product is easily absorbable by the skin. Because it does not contain any cholesterol, it does not leave any residue.

Pregnant women will love this product. When applied regularly, it will reduce and prevent stretch marks from appearing on the skin's surface.

Argan oil regulates and keeps the pH balance of the skin normal. This keeps the skin protected from sun exposure, smoking, pollution, etc.

It reduces skin inflammation and helps in curing several skin disorders such as eczema and psoriasis.

It is also effective in helping to eliminate scars produced by chicken pox and burns.

Argan Oil and Dry Skin

The perfect food for the skin, argan oil nourishes and moisturizes dry, scaly and flaky skin.

The active compounds found in this oil are essential for regulating healthy and hydrated skin.

What Argan Oil Can Do for Oily Skin

This oil regulates sebum production to keep the skin's natural oils at a healthy level. With its use, the skin does not look and feel oily any more.

When the body's glands produce too much oil; argan oil acts as a neutralizer and brings the body's natural oils to a normal level.

The Benefits of Argan Oil for Irritated and Itchy Skin

For itchy skin brought about by dryness, allergies, or other skin conditions, argan oil soothes the skin and alleviates itchiness.

The oil's properties protect skin from allergens that may cause itchiness and solves skin dryness by keeping skin moisturized.

How Argan Oil Can Help With Treating Acne

Argan oil is effective in controlling the production of sebum. Sebum is an oil produced by the body.  When too much is produced, acne usually occurs.

It prevents redness and inflammation brought about by acne.

This oil not only reduces acne, but its properties also help in reducing the appearance of ugly scars left by acne.

The Benefits of Argan Oil Against Aging

Argan oil helps to stimulate the renewal of skin cells, making the skin more elastic.

It effectively reduces wrinkles and skin lines.

It rehydrates dry and damaged skin, helping to reverse aging.

Massaging this oil in the body helps relieve sore muscles caused by aging.

Argan Oil and Stretch Marks

Argan oil, being rich in antioxidants, supplements the skin and keeps skin elastic during pregnancy. Regular application will quickly help to substantially prevent and reduce stretch marks.

The antioxidants prevent the breakdown of two important skin proteins – elastin and collagen. These two components are important in skin regeneration to keep stretch marks under control.

Essential fatty acids like linoleic acid help preserve cell integrity. Argan oil has 3 times more linoleic acid than olive oil. This high concentration of linoleic acid helps to restore the skin's elasticity.

This oil is also perfect for repairing skin discoloration brought about by stretch marks.
Argan Oil for Treating Eczema and Psoriasis

The unique blend of nutrients found in argan oil greatly helps in alleviating the inflammatory symptoms associated with psoriasis.

The same components of this oil act as excellent moisturizers for psoriatic plaques.

It addresses immunity problems and allergies that trigger eczema symptoms.

Argan oil, being a wonderful moisturizer, effectively treats dry and scaly skin caused by both psoriasis and eczema.

It makes psoriasis and eczema more tolerable.

This oil reduces skin redness.

Argan Oil and Its Huge Benefits for Your Hair

Argan oil properties effectively repairs damaged hair – whether from chemicals or the natural elements.

This oil is able to moisturize dry and frizzy hair instantly upon application.

It actively prevents split ends.

It restores the shine in otherwise dull-looking hair.

Argan oil can increase hair growth, solving problems with balding.

This oil also helps control, cure, and prevent dry and itchy scalp.

The Benefits of Argan Oil for Treating Your Scalp

As this oil is a wonderful source of moisturizing ingredients, it keeps the scalp healthy and well nourished.

A few drops of this oil to the scalp will protect it from dandruff.

When gently massaged into the scalp, argan oil will keep the roots f the hair hydrated, protected, and well nourished.

The Benefits of Argan Oil for Your Nails

Argan oil's properties help keep nails strong and healthy.

This oil restores nails' natural shine.

Regular application easily resolves brittle nail problems.

Argan Oil and Its Benefits for Cuticles

Soaking your cuticles in argan oil will help keep them soft and manageable.

Keeping your cuticles nourished with the oil will also help keep your nails healthy and strong.

Benefits Against Ultraviolet Light & for Sun-Damaged Skin

Antioxidants found in argan oil are vital in effectively protecting skin cells from UV light.

The vitamin E found in argan oil will protect the epidermal layers of the skin. This will protect skin from various stages of UV light damage.

Argan oil can effectively hydrate skin damaged by UV light from the sun.

Dry, damaged skin needs non-detergent based, neutral-pH products to cleanse skin. Argan oil provides that natural and delicate cleansing action to sun-damaged skin.

Regular application of this oil to sunburned skin will moisturize skin back to health.

Protects Skin Against Dangers of Cold Weather

Argan oil's properties prevent loss of moisture from the skin brought about by cold weather.

This oil actively moisturizes dry, scaly, itchy skin that usually appears during winter months.

Skin cracks brought about by cold temperatures and indoor heating systems make skin vulnerable to bacteria and locked pores. Argan oil helps to protect skin from infection and ably infiltrates pores to moisturize them.

Argan Oil for Superb Massages

Because this oil is light, long-lasting, and known to be an oil with low acidity and high stability, it is easily absorbed by the skin.

Application of argan oil during massage helps alleviate symptoms of rheumatoid arthritis. 

Argan oil helps to relieve muscle cramping and restless leg syndrome.