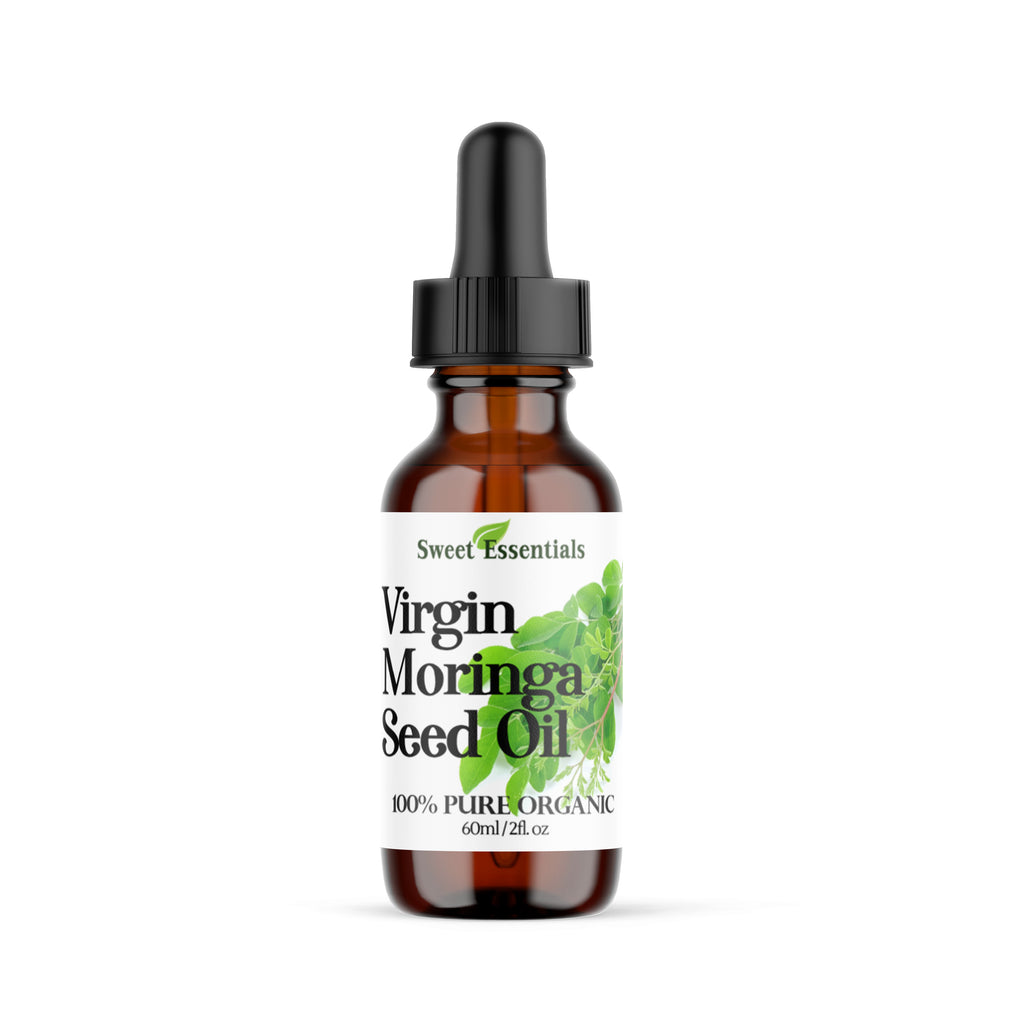 Sweet Essentials
Organic Virgin Unrefined Moringa Seed Oil | Imported from India
Details
✔ The unique combination of fatty acids found in Moringa are integral to the formation and maintenance of cell membranes within the stratum corneum, the layer of the skin that provides a barrier to the environment and regulates permeability.

✔ Moringa oil absorbs easily, improving the appearance and radiance of skin. It has skin-healthy nutrients like vitamin A, which helps build collagen in the skin, vitamin C to help reduce fine lines and wrinkles, and the healing and anti-inflammatory benefits of vitamin E.

✔ Antioxidants and nutrients help fight free-radical damage that can cause skin tissue damage and lead to the formation of wrinkles.

✔ Moringa oil has built a strong reputation for promoting hair growth due to the high content of key nutrients such as vitamins A/B/E, zinc, and silica.

✔ It is just as good for the hair as it is for the skin. Moringa oil is a powerful hair conditioner. It nourishes weak, damaged hair and reduces the lifelessness in them.
Product description
Moringa oil comes from the seeds of the moringa oleifera tree, the most common species of the genus moringa in the flowering plant family moringaceae. The tree is native to India and countries in the Himalayan region.

Moringa oil was first reported 5000 years in India's Vedic scriptures. It soon made its way into Ayurveda, traditional Indian medicine, for its powerful healing properties. Moringa oil was also recorded in Egypt around 2480 BC as a source of cooking, perfume and medicine. Ancient Greece and Rome also used Moringa oil for cosmetics, ointments and creams.

Specifics:
Scientific Name:Moringa Oleifera
Extraction: Cold Pressed
Color: Clear to pale yellow
Scent: Bland Characteristic
Ingredients: 100% Pure Organic Virgin Moringa Seed Oil
Amount: Measured by volume not weight
Bottles: All Bottles Are Sealed. Glass Bottles are amber in color. Glass Droppers are used.
Additives: We NEVER add anything to our oils or waters.
Animal Testing: We NEVER provide or use products tested on animals. We do not support this. We are 100% Cruelty Free
Expirations Dates Are On All Bottles
Important information
Indications
Pure Moringa Seed provides, soothing, natural relief for dry skin. This unique oil quickly penetrates and moisturizes, leaving the skin with a greaseless, silky after feel. Also an excellent product for dry scalp and dandruff when used like a hot oil treatment. Perfect makeup remover, since it is safe to use around your eyes.


Ingredients
100% Pure Organic Unrefined Moringa Seed Oil (Moringa Oleifera Oil) | 100% Pure | 100% Cruelty Free


Directions
Apply to clean skin allow to rest and absorb. Use daily. For hair apply a few drops to palms. And apply to ends of damp hair avoiding scalp. Allow to rest for 5 mins. Style as usual. For scalp treatment apply to dry scalp and hair. Wrap hair and scalp in towel. Keep on for 20 minutes. Wash as usual. Use scalp treatment once weekly.