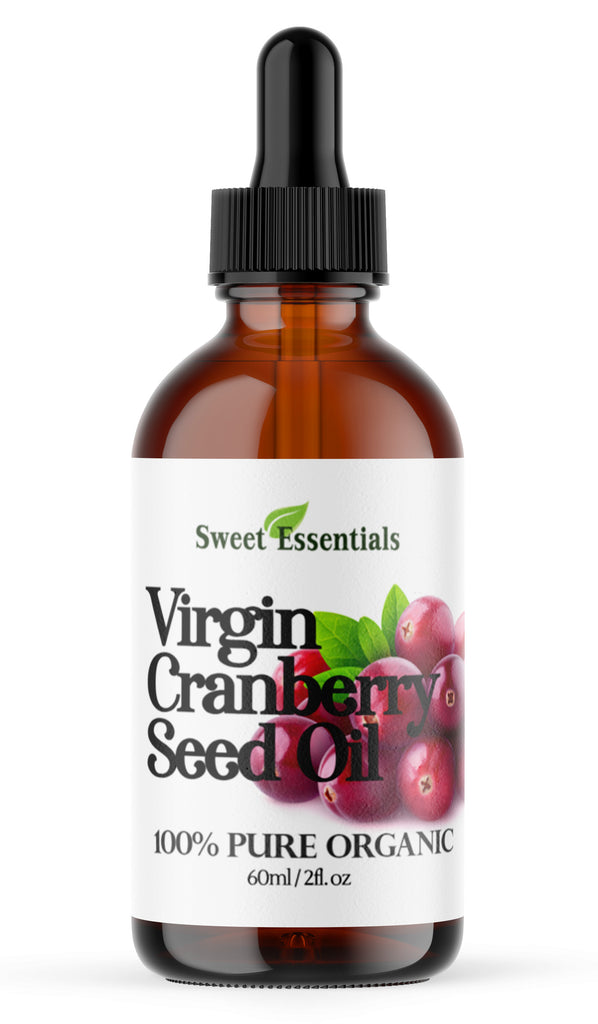 Sweet Essentials
100% Pure Organic Virgin Cranberry Seed Oil | Imported From Canada
Details
Cranberry seed oil is rich in anti-oxidants and contains vitamin A, vitamin E, vitamin C, vitamin K, Omega 3, Omega 6, and Omega 9 which are essential for your skin health. Cranberry seed oil is the only known oil on this planet to have a balanced ratio of Omega 3 to Omega 6 fatty acids. When Omega's are applied to skin they are known to reduce skin damage caused by the Sun's ultra-violet rays, reduce inflammation, and reduce signs of skin aging such as wrinkles, skin elasticity, skin pigmentation, and collagen loss. The unique and rare composition of cranberry seed oil being the only known oil on planet Earth to have balanced Omega's makes it a skin penetrating superstar. Nutrients and other beneficial ingredients are easily absorbed into our skin because of the equally balanced Omega's in cranberry seed oil. Aside from delivering nutrients and anti-oxidants to the skin, there is also outstanding moisturizing effects that are achieved from the high skin absorption abilities of this oil.

Hair Care: If you are looking to have silky and shiny looking hair, cranberry oil is the solution for you. Adding it to your hair care routine will leave your hair looking healthy and shiny. It will also help prevent moisture loss from your hair hence cushioning you from dry and dull looking hair.

Hydration: Cranberry seed oil has equal amounts omega 3, 6 and 9. The combination of these fatty acids makes cranberry seed oil super rich in Vitamin E. Vitamin E is essential for hydration and keeping skin healthy.

An Anti-inflammatory: For people with the skin conditions such as eczema and psoriasis, using this amazing oil will help you relieve the scalp from the itchiness caused by the conditions and also cure them. It is also an excellent addition for people with uneven skin tone. It will help clear the spots and leave an even and youthful looking skin.

Emollient: Due to its emollient properties cranberry oil treats skin conditions such as psoriasis and eczema. For this reason, you can use this oil in the treatment of cracked and scaly skin.

Moisturizer: Since it's a great moisturizer, cranberry is used as a carrier for essential oils to help in skin elasticity. You can also use it to reduce the appearance of wrinkles and damage caused by too much exposure to direct sunlight. It has a mix of Omega 3, 6 and 9. It also has fatty acids. The blend makes it perfect for all your moisturizing needs, and it will leave your skin feeling supple and smooth throughout the day.
Specifics:

Scientific Name: Vaccinium Macrocarpon

Extraction: Cold Pressed

Color: Amber Yellow Golden

Scent: Characteristic / Light

Ingredients: 100% Pure Organic Extra Virgin / Unrefined Cranberry Seed Oil 

Amount: Measured by volume not weight

Bottles: All Bottles Are Sealed. Glass Bottles are amber in color. Glass Droppers are used if selected option.

Additives: We NEVER add anything to our oils or waters. 

Animal Testing: We NEVER provide or use products tested on animals. We do not support this. We are 100% Cruelty Free

Freshness: We fill bottles to order this insures 100% Freshness. Never old or expired. Our bottles we send to Prime (FBA) we fill bottles in small quantities and send them. They do not stay in FBA centers long. We do this to make sure all products customers receive are always fresh. 

Expirations Dates Are On All Bottles
Indications:
Pure Cranberry Seed Oil provides, soothing, natural relief for dry skin. This unique oil quickly penetrates and moisturizes, leaving the skin with a greaseless, silky after feel. Also an excellent product for dry scalp and dandruff when used like a hot oil treatment. Perfect makeup remover, since it is safe to use around your eyes.
Ingredients:
100% Pure Organic Virgin Cranberry Seed Oil (Vaccinium Macrocarpon Oil) | 100% Pure | 100% Cruelty Free
Directions:
Apply to clean skin allow to rest and absorb. Use daily. For hair apply a few drops to palms. And apply to ends of damp hair avoiding scalp. Allow to rest for 5 mins. Style as usual. For scalp treatment apply to dry scalp and hair. Wrap hair and scalp in towel. Keep on for 20 minutes. Wash as usual. Use scalp treatment once weekly.