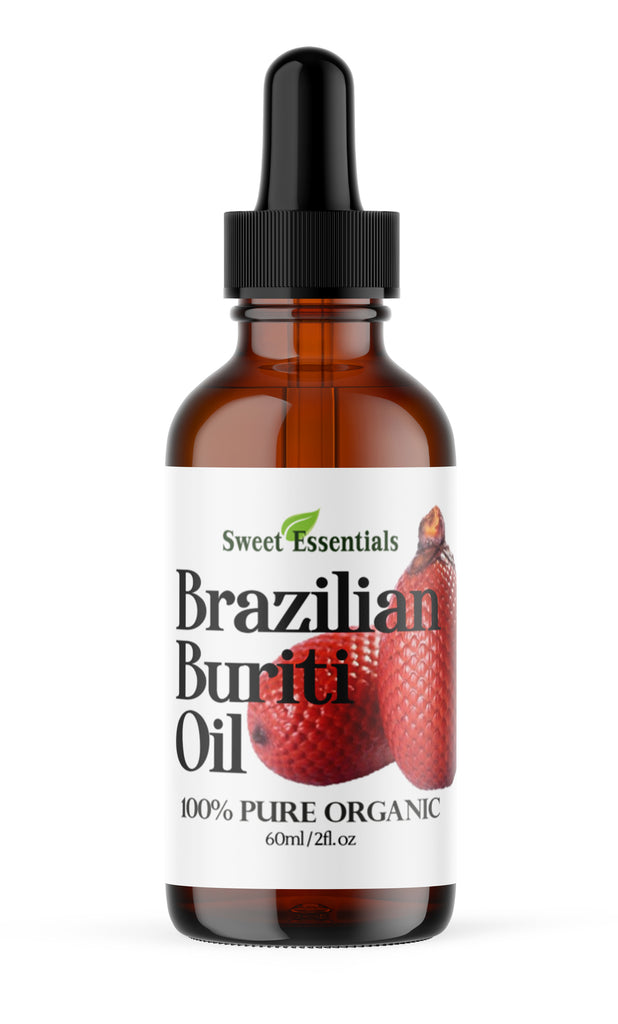 Sweet Essentials
Organic Brazilian Buriti (Aguaje) Fruit Oil | 2oz Glass Bottle | Imported From Brazil
Details
Buriti oil also has an extremely high anti-oxidant content to protect the epidermis from free-radical damage. Buriti oil has the highest natural occurrence of pro-vitamin A available (carotenoids).

The rich unsaturated fatty acids in Buriti Oil restores moisture depleted, sun-exposed skin. It rebuilds, exfoliates and renews tissue and fortifies and re-hydrates cells, by supporting the production of collagen and elastin.

In addition to these benefits, buriti also has a natural anti-inflammatory reaction that can tame redness and calm skin conditions like psoriasis and eczema. It's also deeply hydrating, and can help reduce the dryness of winter and mature skin, producing a more supple, softer look and feel.

Buriti oil is a rich source of fatty acids, which help not only support the production of collagen and elastin, but also provide moisturization.

Buriti also does wonders for the scalp and repairing dry, damaged and chemically treated hair, adding shine and silkiness. The oil harbors ample nutrients that will give the hair and scalp all it needs to stay healthy and soft. This oil moisturizes, strengthens and smooths to fight off frizz and unruly tresses.
Buriti Oil Benefits

Natural and pure, the Buriti oil is extracted by pressing the Buriti seeds. The Buriti is a typical Buriti fruit that corresponds to one of the largest palm trees vegetation of wetlands and humid regions of the Midwest, North and Northeast of Brazil. The Buriti is an excellent source of vitamin A (beta-carotene), vitamin (B1, B2 and B5), vitamin C, protein, carbohydrates, calcium, phosphorus, iron and iodine.

Vitamin E: This potent antioxidant protects the skin from free radical damage, and is also critical in wound healing.
Beta-carotene: Another powerful antioxidant, beta-carotene is known to protect from sun damage. Early studies have shown that it can filter and absorb ultraviolet rays known to contribute to skin cancer.
Vitamin C: Buriti oil is a good source of vitamin C, which works with vitamin E to provide antioxidant protection, and is also crucial for the production of collagen.

Specifics:
Scientific Name: Mauritia Flexuosa
Extraction: Cold Pressed
Color: Reddish Orange
Scent: Characteristic
Ingredients: 100% Pure Organic Unrefined Buriti Fruit Oil (also known as Aguaje Oil)
Amount: Measured by volume not weight
Bottles: All Bottles Are Sealed. Glass Bottles are amber in color. Glass Droppers are used.
Additives: We NEVER add anything to our oils or waters.
Animal Testing: We NEVER provide or use products tested on animals. We do not support this. We are 100% Cruelty Free
Expirations Dates Are On All Bottles