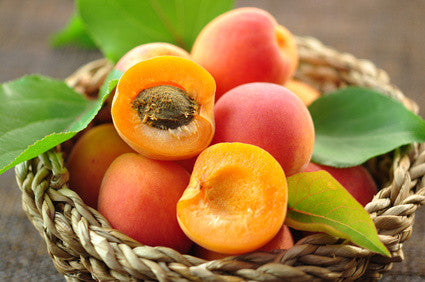 Sweet Essentials
100% Pure Organic Apricot Kernel Oil | Imported From Italy
Details
Apricot Kernel oil is an excellent emollient and moisturizer. As an emollient it nourishes and softens the skin and hair  helping to keep it smooth to the touch. Apricot Kernel oil is similar in composition to the oil baby's excrete to keep their skin and hair healthy. This composition is beneficial to protecting and conditioning your skin no matter your age. By helping the skin stay healthy it promotes a youthful skin complexion.
A lovely moisturizing oil that is very light and absorbs well. This is one of the most useful, practical, and commonly used oils. It is great for all skin types as an acting  emollient and is best known for its ability to soften, soothe, and re-condition the skin.
Specifics
Scientific Name: Prunus Armeniaca Oil
Extraction: Cold Pressed
Color: Golden
Scent: None
Ingredients: 100% Pure Organic Apricot Kernel Oil
Amount: Measured by volume not weight
One of the most common Apricot Kernel oil hair uses today is for developing and maintaining a healthy scalp and healthy hair. As you probably already know, hair and scalp types range from very dry to very oily. What you may not know is that Apricot Kernel oil can be used with great effect regardless of what type you have. Many people have discovered that by applying a few drops to their scalp and rubbing it in for a minute or more before bedtime, their hair will become thicker and develop a sheen and shine like never before. And because important vitamins like D and E as well as essential  fatty acids are naturally present in almonds, the overall health of the hair and scalp can improve with time and daily care. And there are other benefits which often occur as a result of daily Apricot Kernel oil hair uses. Many people report that their loss of hair has decreased and some even state that they have achieved significant hair growth as a direct result of daily or frequent Apricot Kernel oil hair uses.
Benefits for Hair:
Nourishes hair and smoothes hair cuticles

Makes hair long, strong and thick

Massaging scalp with Apricot Kernel oil adds shine to the hair

Controls hair fallout
Benefits For Skin:
Apricot Kernel oil is frequently used to treat dry skin. As a dry skin treatment, Apricot Kernel oil relieves itchiness, soreness, rashes, dryness, irritation and burns.
Apricot Kernel aides the skin in keeping the proper balance of moisture in the skin which is critical when treating dry skin. It is often mixed with an exfoliant for body scrubs as well as mixed with moisturizers to provide   benefits the moisturizer may not have. Apricot Kernel can also be used on the delicate skin under the eye to prevent "crow's feet".