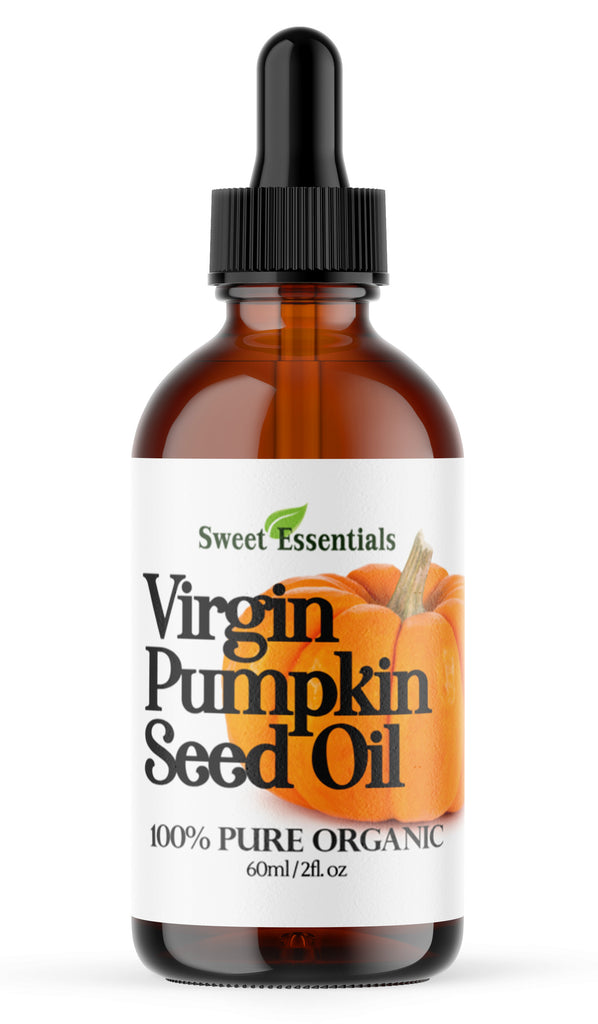 Sweet Essentials
100% Pure Organic Virgin Pumpkin Seed Oil | Unrefined | Imported From Austria
Details
Pumpkin seed oil encourages cell turnover, revealing smooth new skin underneath. It also aids in maintaining the skin's collagen levels, which keeps skin healthy. The Vitamin E in pumpkin seed oil nourishes the skin cells and promotes their proper functioning.

The essential fatty acids sink deeply into skin to provide long-lasting moisturization without greasiness. These acids also help balance oil, moisturizing dry skin and controlling oily skin.

The beta-carotene (or provitamin A) of pumpkin seed oil fights with free radicals and reduces the impact of oxidative stress on the scalp because of its antioxidant properties. Its role in strengthening your hair cannot be underestimated.

Pumpkin seed oil has also the good content of polyunsaturated fatty acids which have many health benefits along with protecting and improving your hair health.

A rich source of vitamin E, which is a potent antioxidant, pumpkin seed oil protects skin from environmental stressors.
Pumpkin seed oil is rich in vitamin E, zinc, omega 3- and 6- fatty acids as well as antioxidants, therefore it has tremendous benefits for the skin in terms of retaining moisture, fighting free radicals and maintaining a youthful appearance. The high amounts of zinc and vitamin E also improve skin tone, help wounds heal more rapidly, fight acne and help with skin renewal. Lastly, many of the minerals and vitamins have anti-aging effects as well. Research has found Pumpkin Seed Oil can inhibit the enzyme known as 5-alpha reductase enzyme, which has been shown to slow and stop hair growth by producing DHT from testosterone. It has also been shown to protect hair follicles and increase shine. In addition to shielding the hair protein, it also hydrates the follicles, ensuring shiny, lustrous strands, especially essential for over-processed hair from relaxers and heat. 

Specifics:

Scientific Name: Cucurbita Pepo

Extraction: Cold Pressed

Color: Green 

Scent: Characteristic / Light

Ingredients: 100% Pure Organic Extra Virgin / Unrefined Pumpkin Seed Oil 

Amount: Measured by volume not weight

Bottles: All Bottles Are Sealed. Glass Bottles are amber in color. Glass Droppers are used if selected option.

Additives: We NEVER add anything to our oils or waters. 

Animal Testing: We NEVER provide or use products tested on animals. We do not support this. We are 100% Cruelty Free

Expirations Dates Are On All Bottles
Indications
Pure Pumpkin Seed Oil provides, soothing, natural relief for dry skin. This unique oil quickly penetrates and moisturizes, leaving the skin with a greaseless, silky after feel. Also an excellent product for dry scalp and dandruff when used like a hot oil treatment. Perfect makeup remover, since it is safe to use around your eyes.
Ingredients

100% Pure Organic Virgin Pumpkin Seed Oil (Cucurbita Pepo Oil) | 100% Pure | 100% Cruelty Free
Directions

Apply to clean skin allow to rest and absorb. Use daily. For hair apply a few drops to palms. And apply to ends of damp hair avoiding scalp. Allow to rest for 5 mins. Style as usual. For scalp treatment apply to dry scalp and hair. Wrap hair and scalp in towel. Keep on for 20 minutes. Wash as usual. Use scalp treatment once weekly.