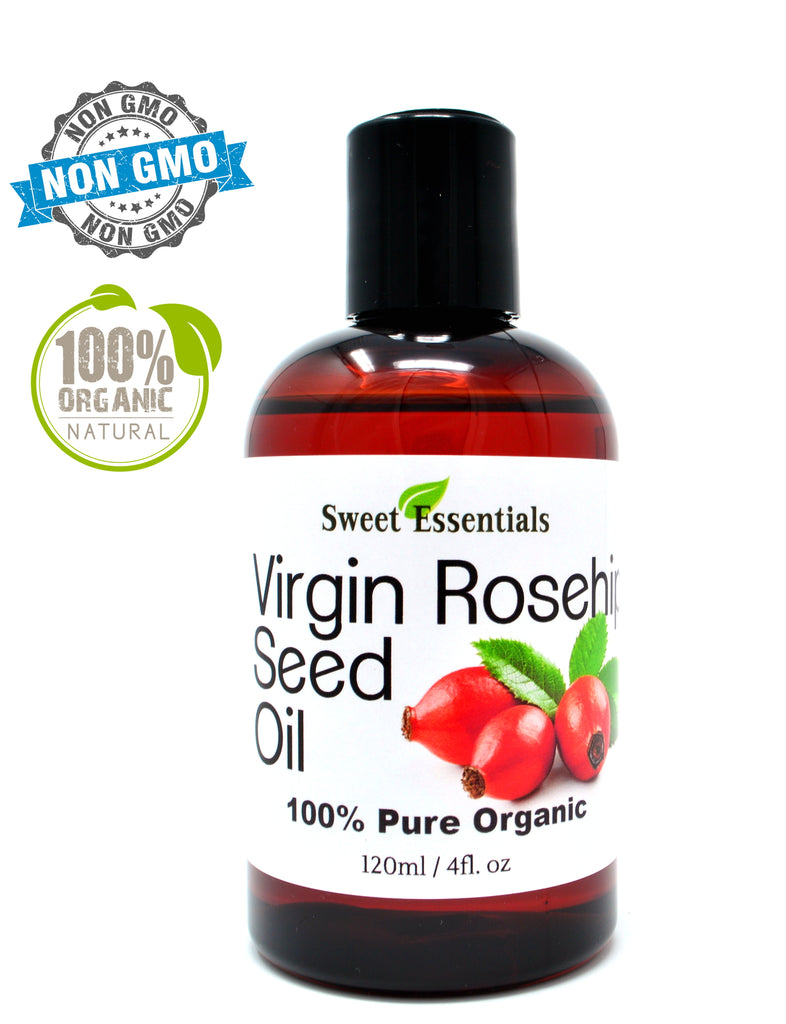 Sweet Essentials
100% Pure Organic Rosehip Seed Oil | Unrefined / Virgin | Imported From Chile
Details
Color: Orange w/ Red Hues
Scent: Characteristic ( Not Suppose To Smell Like Roses)
Process: Cold Pressed
Ingredients: Pure Organic Unrefined Rosehip Oil
INCI: Rosa Canina
Product Of Chile

Measured by volume not weight. All bottles are sealed. These products come in a food grade #1 PETE plastic bottle. Specifically designed not to degrade the oils. Glass Options are available.
Rosehip seed oil made from the seeds of a type of natural growing rosebush found in the Andes Mountains region of South America, was recognized for its amazing healing properties and was used by Andean Indians for centuries. These days Rosehip seed oil is an important ingredient in many skin and hair treatments because of its fast healing benefits.

Rosehip oil is particularly high in vitamin C, containing about 1700–2000 milligrams per 100 grams of oil. In addition, this oil contains linoleic acid or omega 6 oil, oleic acid or omega 9 fatty acid, lycopene which is a powerful antioxidant, beta-carotene which is a source of pro-vitamin A and a powerful antioxidant. Rosehip oil is commonly used to treat a variety of skin conditions like dermatitis, acne or eczema, and it is also used as an anti-aging solution as well as for healing scarring or burnt skin.

Hair Care Benefits
Because of its properties, Rosehip seed oil works great on the hair and scalp and provides many restorative benefits. The vitamin A inside the oil nourishes the scalp and helps encourage healthy hair growth. The oil also helps condition the individual hair strands, making them stronger and healthier. Rosehip oil has the ability to be absorbed quickly, and it doesn't make hair look or feel greasy because it goes right into the hair strand within a minute, providing hair strands with extra hydration and restoring a smooth shine and flexibility to brittle
damaged hair.

Other oils need dilution with another type of essential oil, which usually leave a greasy feel on the area of application. This is not the case when you use rosehip oil. Practically, you can use it directly on the scalp without having to dilute and deal with the greasy effect. Additionally, it is absorbed 0easily by the scalp so you can definitely enjoy its benefits.

Skin Care Benefits
Rosehip oil is used by many cosmetic companies in producing skin care products, but the pure oil is the best option. Massage it with the fingertips directly onto the affected area. When repeated daily, results will soon be apparent. The rosehip is the bulbous part at the base of the flower, which remains after the rose petals are removed. The seeds inside are pressed to extract the oil. The oil contains 77% fatty acids which are essential in skin cell regeneration and damaged tissue repair. The health benefits of rosehip oil are numerous; not only is it useful for keeping skin looking young, but also in treating unsightly skin blemishes, scars and even
burns.

The health benefits of rosehip oil are not only realized by those with skin problems, but it should be used in a preventative role too. Using the oil on a regular basis will help to keep skin supple and retain its elasticity, going a long way to slow down the aging process of the skin

The essential fatty acids in rosehip oil play a vital part in the regeneration of skin cells and reparation of tissues, reversing damage and providing a much healthier appearance to the skin. The health benefits of rosehip oil are also apparent in the prevention of skin problems and a reduction in premature aging of the skin. Its amazing healing properties are unbeatable in the treatment of acne and chickenpox scars, as well as helping to reduce the coloring of surgical scars. It can even help prevent the formation of the keloid or "lumpy" scars caused by surgery.

Rose Hip Oil halts and reverses typical signs of aging like wrinkles, crow's feet and sagging skin by accelerating the skin's cellular activity to improve skin renewal and cell regeneration. The face becomes firmer and smoother as signs of aging diminish.