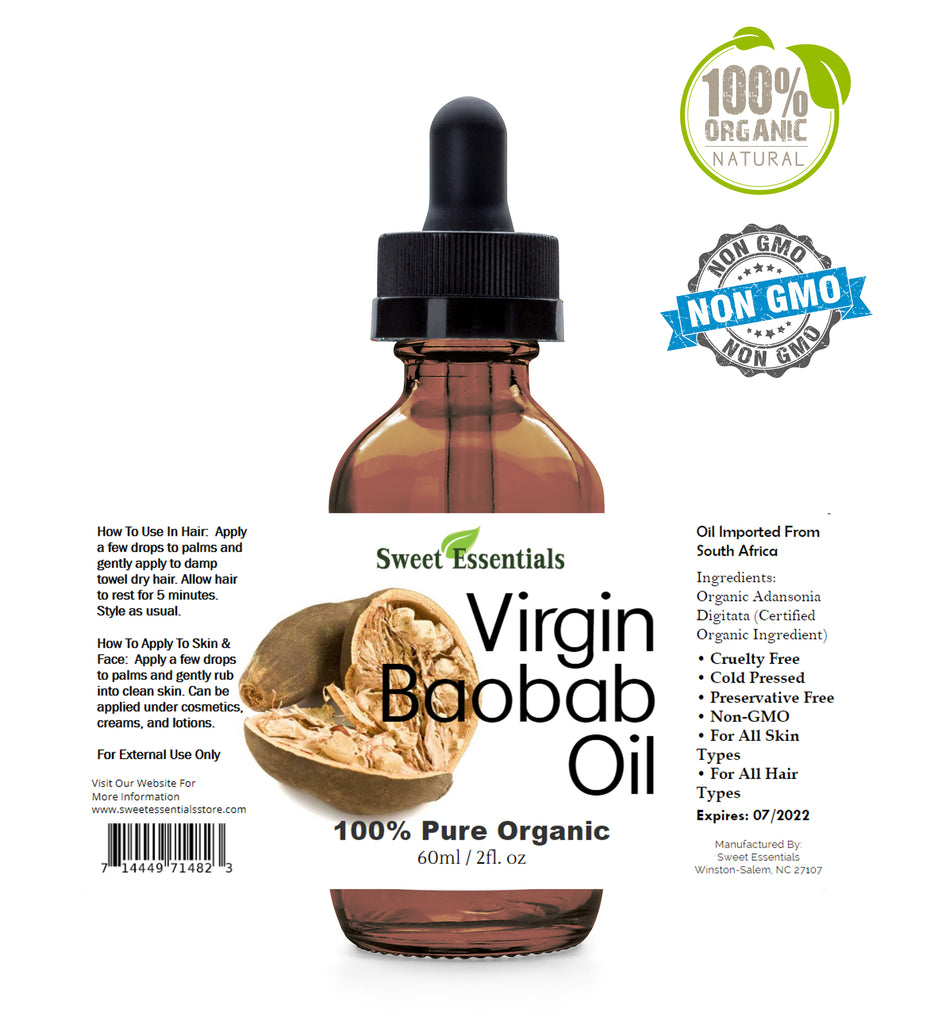 Sweet Essentials
Organic Unrefined Baobab Oil | Imported From South Africa
Details
Baobab Oil is especially rich in Vitamin E, Vitamin A, Omega 3 fatty acids, Omega 6 fatty acids and sterols. It is highly emollient, is a noteworthy anti-oxidant, helps increase elasticity and reduces wrinkles and fine lines.

It is a functional addition to anti-aging and after sun care products. The significant level of fatty acids contributes to the oils effectiveness when used in conjunction with skin conditions including eczema, psoriasis, rosacea and acne.

Baobab is a superb skin moisturizer. It absorbs quickly without leaving an oily residue. Baobab Oil has been shown to alleviate chronic dry skin conditions such as eczema and psoriasis.

Its inherent moisturizing qualities help to regenerate and repair damaged hair, while soothing and healing itchy, irritated scalp.

Baobab Oil strengthens the hair cuticle and improves elasticity, to restore and maintain healthy hair. It's inherent moisturizing qualities, plus vitamins A, E and F help to regenerate and heal broken hair, while soothing and healing itchy, irritated scalp. It also restores a healthy texture and shine to hair weakened by styling and coloring.
Product description
Baobab oil is extracted from the seeds of the fruit that bloom on baobab trees. These extremely old trees (some species live up to a thousand years or more) are native to Africa and feature thick trunks and thin branches. Often called "upside down trees" because of their spindly branches that resemble roots, the flowers of baobab trees bloom once a year and interestingly open at night.

Rich in vitamins A, E, and F and sterols, baobab oil absorbs quickly and is a wonderful oil to use in dry skin treatments and products designed to moisturize dry hair.

Specifics

Scientific Name: Adansonia Digitata
Extraction: Cold Pressed
Color: Golden (pour entire contents into a glass cup to fully see the color)
Scent: Light Characteristic
Ingredients: 100% Pure Organic Unrefined Baobab Oil
Viscosity: Medium
Imported From Africa
Amount: Measured by volume not weight
Bottles: Amber Glass Bottles and Glass Droppers. All bottles are sealed

Properties Include:

❧ Rapid Absorption
❧ Highly Emollient
❧ Strengthen and Soften Hair
❧ Non-Comedogenic (Does not clog pores)
❧ Nutty, Characteristic Aroma
❧ Rich in Vitamins A, E and F
❧ High Sterol Content
❧ Heal Scars and Burns
❧ For all skin and hair types
Indications
Pure Baobab Oil provides, soothing, natural relief for dry skin. This unique oil quickly penetrates and moisturizes, leaving the skin with a greaseless, silky after feel. Also an excellent product for dry scalp and dandruff when used like a hot oil treatment. Perfect makeup remover, since it is safe to use around your eyes.


Ingredients
100% Pure Organic Unrefined Baobab Oil ( Adansonia Digitata Oil) | 100% Pure | 100% Cruelty Free


Directions
Apply to clean skin allow to rest and absorb. Use daily. For hair apply a few drops to palms. And apply to ends of damp hair avoiding scalp. Allow to rest for 5 mins. Style as usual. For scalp treatment apply to dry scalp and hair. Wrap hair and scalp in towel. Keep on for 20 minutes. Wash as usual. Use scalp treatment once weekly.