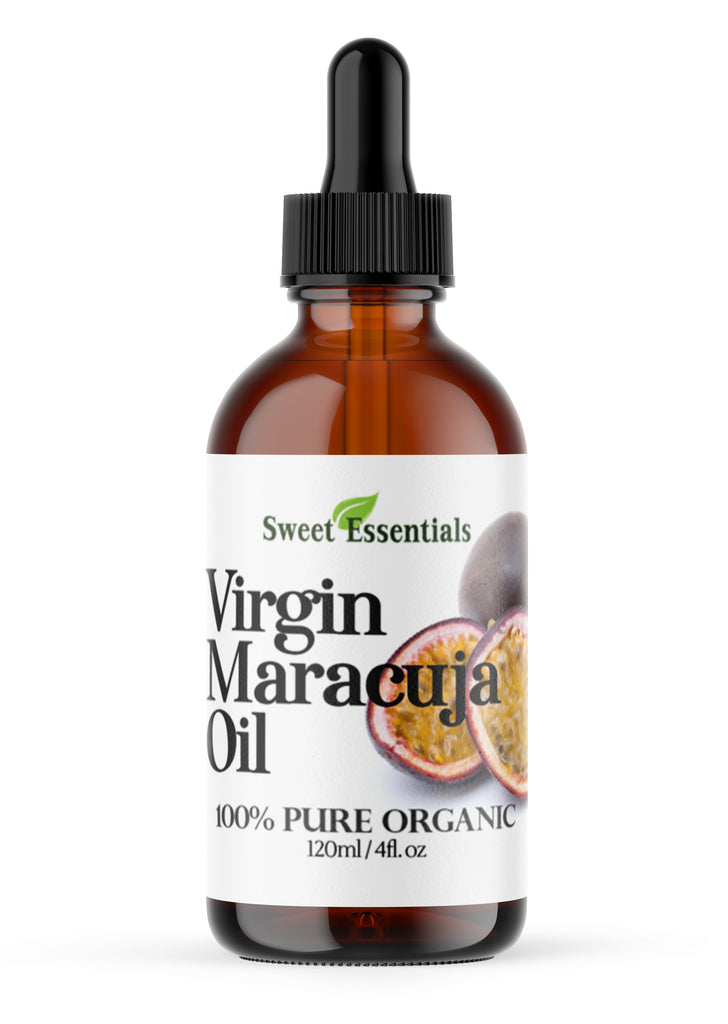 Sweet Essentials
100% Pure Organic Unrefined Maracuja Oil | Imported From Brazil
Details
Maracuja oil (pronounced mah-rick-oo-jah and is Portuguese for passionflower) is derived from the passion fruit in the amazon and only one crop is harvested each year by the Amazonian women. Maracuja Oil (Passionfruit Oil) is a superior emollient rich in vitamin C, calcium and phosphorus. The high content of essential fatty acids and light texture makes maracuja oil valuable in treating wrinkles & dry aging skin. Maracuja oil can also be used on hair and scalp to encourage hair growth. Maracuja oil absorbs quickly into skin and hair without a greasy feel.
Specifics
Scientific Name: Passiflora Edulis Seed Oil
Extraction: Cold Pressed
Color: Golden
Scent: Characteristic 
Ingredients: 100% Pure Unrefined / Virgin Organic Maracuja Oil
Amount: Measured by volume not weight
Bottles: Sealed Cosmetic grade plastic bottles. Made for oils and will not degrade the quality of oils. To keep Oils at the best quality they need to be kept in dark bottles away from direct sunlight and at room temperature.  
Maracuja oil is extremely rich in vitamin C and essential fatty acids, making it a great choice to nourish the skin and revitalize damaged hair.
 

For All Skin Types

 

For All Hair Types

 

Hydrating for Dry, Brittle and Damaged Hair

 

Rebuilds and Repairs

 

Soothes and heals redness and irritation

 

Hydrates and brightens

 

Reduces lines and wrinkles

 

Improves elasticity, tone and texture

 

Boosts collagen production
Dry Skin types will experience ultra hydration while EFAs rebuild and repair the skin.
Oily Skin will experience instant absorption and the oil actually contracts skin's natural oils so you aren't left feeling greasy or oily.
Dull Skin will appear brighter and more radiant thanks to the rich vitamin C formula while EFAs, a requirement for healthy skin cells that the body can't reproduce, help to infuse life back into the skin.
Sensitive/Acne-Prone-Redness/Rosacea will benefit from the antioxidants which will help soothe and heal skin without causing breakouts.
Hair Care: Maracuja Oil can be used in hair care to maintain hair health and can be used to condition dry, brittle and damaged hair. It balances scalp oil, encourages healthy hair growth, strengthens and gives a natural sheen to hair.
How To Use
Use 2- 3 drops on face at night as a treatment to reduce fine lines and wrinkles. Maracuja oil improves skin texture as well as adding brightness and glow to the skin.

Use 2 drops on damp hair to improve hair health and reverse damage caused by heat, products, and nature.